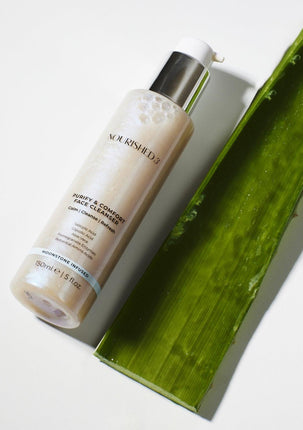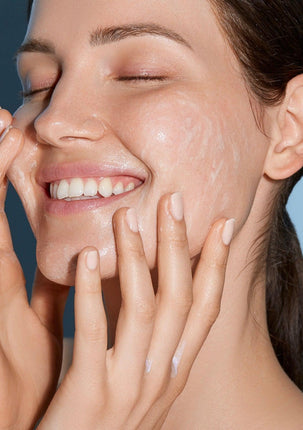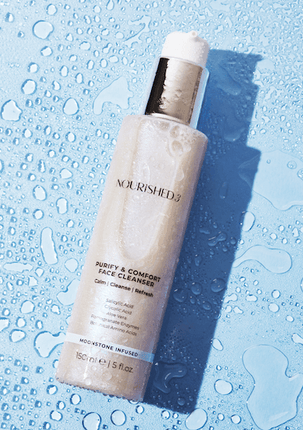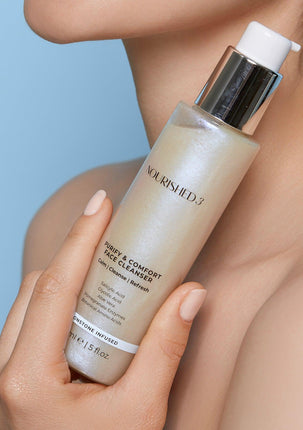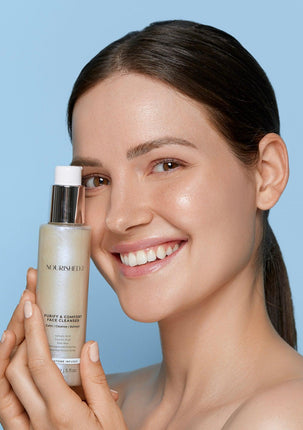 Purify & Comfort Face Cleanser
150ml
€38.00
Description
Ingredients
Benefits
How To
This gentle yet purifying gel to milk cleanser effortlessly removes impurities, excess oil, makeup, SPF and pollution from the skin whilst simultaneously respecting the skin's moisture barrier by never over drying or irritating, leaving skin feeling clean, refreshed and soft.
A gentle blend of fruit enzymes, vitamin C, as well as salicylic, glycolic, and mandelic acids aids in clearing deep within the pores to diminish breakouts and help brighten and smooth the skin, while botanical amino acids, aloe vera, glycerin, and plant-derived squalane strengthen and leave skin feeling nourished and hydrated.
This 100% fragrance-free and pH-balanced cleanser is specifically formulated for sensitive and acne-prone skin. Suitable for all skin types. 
Vegan & Consciously produced.
MADE IN ITALY
Aloe Vera Juice instead of Water
Deeply soothes to calm sensitive skin, as well as moisturizes and promotes natural hydration. It also has anti-inflammatory properties, which can help to reduce the appearance of blemishes and wrinkles. Aloe vera is non-irritating and is suitable for all skin types.
AHA's Glycolic & Mandelic 
A powerful AHA mixture that works to retexture and brighten the skin. AHA's also help to reduce acne, fine lines and improve the appearance of uneven skin. They chemically exfoliate, working to loosen the "glue" between dead skin cells, revealing brighter, clearer, more even toned skin.
BHA Salicylic Acid  
Treats acne by working deep within the pore by reducing swelling, redness and releasing blocked pores to allow breakouts to diminish.
Botanical Amino Acids
The building blocks of peptides and proteins, these replenish, protect, and support skin elasticity.
Vitamin C
A potent antioxidant clinically proven to brighten skin, even skin tone and help to boost collagen production for a more youthful appearance.
Pomegranate Enzyme
Rich in vitamin C and E, provides enzymatic exfoliation, breaking down dead skin cells to reveal natural glowing skin.
Moonstone Crystal
The gemstone of new beginnings, it is strongly connected to the moon and to intuition. It soothes emotional instability and stress, promoting inner growth and strength, and stabilizes the emotions, providing calmness.
---
FORMULATED WITHOUT:
Artificial colors
Fragrances
Silicones
SLS and SLESP
Parabens
Formaldehydes
Phthalates
Mineral oil
Retinylpalmitate
Oxybenzone
Coal tar
Hydroquinone
Triclosan
Triclocarban
Removes impurities, excess oil, makeup & SPF
Works deep within the pores
Soothing & hydrating properties
Diminishes breakouts & improves overall skin brightness
Reduces swelling, redness and releasing blocked pores
Reduces the appearance of fine lines, dark spots
Doesn't over-dry or strip the skin
Nourishes and brightens the skin
Gel-to-milk
Feels refreshing and soothing
100% fragrance, oil, silicone and allergen-free
Breastfeeding & pregnancy safe
Consciously produced
Non-comedogenic
pH balanced
Use morning and evening. Dispense 1 pump of cleanser to fingertips, and gently massage over wet skin. Rinse well and pat dry with clean face towel. Avoid eye area. Follow up with serum and moisturizer.


---

This cleanser is designed for all skin types, specifically those with sensitive, lackluster and acne-prone skin. Although effective against breakouts, the formula is ultra hydrating, preventing over-drying, allowing skin to feel refreshed, deeply cleansed and nourished.
OUR PRODUCTS
We formulate our products to European Union standards, the highest standard in the world, banning over 1,600 toxins and questionable ingredients, to ensure our products are safe, non-toxic, and effective.
We only formulate with clinically proven, skin-changing ingredients, at levels and percentages that count and truly make a difference to your skin.
All of our ingredients are European and consciously sourced, insuring formulas you can trust.
We create with you in mind FIRST, cutting out unnecessary fillers and additives, and replacing ingredients such as water for instance with witch hazel when possible to give you the highest quality for your purchase.
We acknowledge and respect the importance of your skin's health in relation to your highest and truest wellbeing, and hand-in-hand with great formulations, we make it a core mission to help you achieve your best skin from the inside out as well.